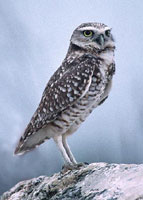 Photo copyright: Greg Lasley
The Burrowing Owl [Speotyto cunicularia]:
An Alberta Perspective
The Burrowing Owl lives in a burrow, not in a tree. I became interested in the Burrowing Owl when I learned that it's an Endangered Species. When you read these pages, you will find that there is a Burrowing Owl restoration program in Alberta that provides some hope.
In my WEB search for information on this feathered critter, I discovered that human beings revere the owl. On the thousands of 'OWL' and "Burrowing Owl" pages I explored, I found owl paintings, owl photos, owl statues, owl objects, and owl software. There are even people who label themselves as 'wise owl'.
I visited many of the commercial owl pages. NONE carried information about live owls or links to owl pages.
There is little information on the creature who inspired such reverence. I've gathered as much as I can find here for your information. If you want to visit other sites, use 'burrowing owl' and 'speotyto cunicularia' as search terms. Google.com is a useful search engine.

Burrowing Owl Links

Owls in the News
Want to help? Join or Make a Donation to an Organization that makes a difference.

Operation Burrowing Owl

The Alberta Wilderness Association, Calgary, Alberta

Canadian Parks & Wilderness Society

World Wildlife Fund - Canada

Canadian Nature Federation

Canadian Wildlife Federation

Green Links: If you live in the US, this links page will take you to organizations that make a difference.
Status: In the late 1970s there were about 2,100 breeding pairs left in Canada. By 1987, the population had dropped by half, with 700 pairs remaining in Alberta.After continued decline, burrowing owl status was upgraded from threatened to endangered this year.

Behavior: Burrowing owls only spend the summer in Alberta. It's not known exactly where they winter, but they probably migrate to the southwestern United States or Mexico.Unlike most owls, these ones live in burrows in the ground, are active during the day and prefer to eat insects. In some populations, breeding pairs live close together in colonies. They take over and modify abandoned burrows of badgers, gophers or foxes.

Appearance: Burrowing owls look like short, fat owls on stilts. They often stand upright on long, thin legs to see farther over the prairie.Food: Mainly insects, some rodents, toads, small birds, dead animals.

Breeding: Courtship displays include flashing white markings, cooing, bowing, scratching, nipping and repeated short flights. The male prepares the burrow by lining it with dried plants, feathers and cow dung. The female then lays 6-12 eggs and stays underground to incubate them for about four weeks. The young birds begin to hunt for themselves after seven to eight weeks.

Risk factors: Cultivation and development have significantly reduced the owls' habitat. Burrowing owls require open areas with low ground cover, existing burrows and abundant food -- all of which are threatened on the prairies. Owls rely entirely on burrowing animals for their nests, and many of these animals are exterminated as pests.Burrowing owls have also been killed accidentally as a result of poison programs aimed at pests and insects.

Management and Outlook: Alberta Environmental Protection's wildlife management division aims to increase the burrowing owl population to 1,000 breeding pairs.Through Operation Burrowing Owl, farmers have agreed not to cultivate more than 50,000 acres of grassland in known owl habitats. Careful livestock management will also increase the amount of food available for owl pairs and the number of young they produce.In the four western provinces, it is illegal to kill or disturb burrowing owls or their nests.Photo: D. Wood