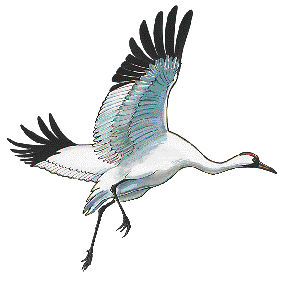 The Majestic & Endangered Whooping Crane [Grusamericana]:
An Alberta, Canada Perspective
On my quest to learn about Whooping Cranes, I found that they attract passionate interest throughout their migratory route linking the Canadian North to the Texas Gulf. This page and the links below are about the Crane's journey.
The links were done by people living in many states and provinces. They reflect a web of human concern connected through the inspiration of the great, graceful white bird who knows no human boundaries.
Status: U.S. Wildlife officials counted 149 whooping cranes in November 1995, the most since the American government began taking censuses in the 1930s.
In the late 1800s, there were about 1,500 birds in the aspen parkland and prairie regions of Western Canada and the U.S. As human settlement spread westward, the world population dropped to a low of 14-16 in the 1940s.
Conservation efforts since 1938 have resulted in a slow increase. Including those in captivity, and 25 cranes in two other wild populations, there are now 320 whooping cranes in the world.
Habitat: In late April, cranes arrive at their breeding area in Wood Buffalo National Park, which extends into northeast Alberta from the N.W.T. By the end of September, the whoopers leave for the 4,000 km flight south to the Aransas National Wildlife Range in Texas. By gliding on wind currents, they can stay aloft for 10 hours and cover up to 750 km.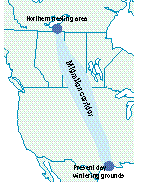 Size: Whoopers are the tallest of all birds in North America. An adult male stands 1.5 m tall, weighs as much as 7.5 kg, and has a wingspan up to 2.5 m wide. Despite their size, cranes average a flight speed of about 45 km-h.
Food: Cranes eat snails, larval insects, leeches, frogs, minnows, small rodents, and berries. They may scavenge dead ducks, marsh birds or muskrats. During migration, they stop to eat aquatic animals, roots of plants and waste grain in stubble fields. In Texas, they eat shellfish, snakes, acorns, small fish and wild fruit.
Breeding: Whooping cranes mate for life. In early spring, adults display elaborate courtship rituals, bobbing, weaving, jumping and calling with their mates. The female lays two large eggs and both adults incubate them for the next month. The eggs hatch at different times and the second chick is often pushed out of the nest or starved. Chicks can swim as soon as they hatch. They can fly within 80-90 days.
Lifespan: Up to 24 years in the wild.
Risk factors: The number one cause of death of adult cranes is collisions with power lines during migration. Other factors include industrial, agricultural and recreational developments which encroach on wintering and migration rest areas.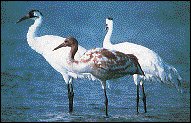 Management and Outlook: The Aransas range in Texas is protected as is the whoopers' last breeding area in Wood Buffalo. However, Aransas is next to an intercoastal waterway with heavy commercial barge traffic. Wildlife biologists want to establish new populations to ensure the species couldn't be wiped out by an oilspill there.
Since 1967, surplus eggs from Wood Buffalo have been hatched and reared in captivity. There are now three breeding populations in captivity, two in the U.S. and one at the Calgary Zoo.
It is illegal to disturb whooping cranes or their nests in Alberta.
During periods of migration, immediately report any sightings of whooping cranes to the Canadian Wildlife Service 24-hour hotline at 306-975-5595.
Photo: L. Scott
---
Whooping Crane Links: Webpages change too fast to maintain current links. If you want to find more information on the Whooping Crane, try the following search terms: whooping crane and Grusamericana.
---
Want to help? Join or Make a Donation to an Organization that makes a difference.
If you live in the united states, these green links will take you to organizations that make a difference there.