The Northern Leopard Frog
[Rana pipiens: also called the Meadow or Grass Frog]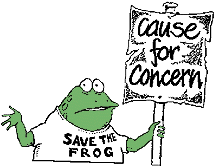 Until recently, one of the most common sounds in the national parks of western Canada was the low, throaty grunt of the northern leopard frog. In the 1980s, Alberta's leopard frog population plunged so badly that the government of Alberta even put out a "wanted poster," displaying a photo of the frog with the words "Have You Seen This Frog?"
Undoubtedly you've heard, as I have, that worldwide, frogs are in trouble. Still, it surprised me to learn that the Northern Leopard Frog is more than in trouble in Alberta. After all, don't we Albertans live in one of the great undeveloped regions of the world?
This local bad news led me to want to know more about the status of the Northern Leopard Frog in Alberta and about frogs in general elsewhere on our planet.
I've learned that not all amphibians are declining (salamanders, for example, do not appear to be in trouble), and that a single, planet-wide phenomenon seems unlikely. And, there appear to be many contributing factors to the declines that are occuring. These factors include habitat destruction, fire suppression, increases in ultra-violet radiation, industrial pollution, pesticides, acid precipitation, sedimentation, changes in temperature, introduction of predators or competitors into breeding areas, diseases, and natural population fluctuations.
A friend of mine, a good Alberta citizen, said recently: 'What endangered species problems? -- we don't have that problem here in Alberta.' Think again! Have a look at the information below and the links that follow and satisfy yourself about what's going on and what you can do to help.
And, who was it that said, 'If you're not part of the solution, you're part of the problem.'
---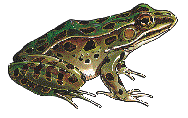 Status: Once the most widespread frog species in North America, the number of northern leopard frogs began to decline in the mid 1960s. In Alberta, most populations remained healthy until about 1979 when they mysteriously disappeared from most sites in the central and southern parts of the province. In 1990, only half of the remaining few leopard frog populations in Alberta were breeding successfully.
Habitat: In Alberta, most live in clear, clean freshwater springs in lightly wooded areas. They're most active after sunset in warm, wet weather. They winter under stones in the moving water, as long as there is enough oxygen.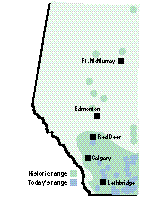 Appearance: These are the familiar frogs of biology books and laboratories. They are the largest common frogs at 50-130 mm long.
Food: Tadpoles eat plants, algae, some dead tadpoles or other small, dead invertebrates. Adults eat almost anything they can catch, including insects, other invertebrates and small vertebrates such as mice or fish.
Breeding: Most frogs don't breed until they're three to four years old. In late April, males begin calling to attract females. Breeding begins in May. Each female deposits up to 3,000 eggs in a large, flattened mass of grey/black jelly in the water. The eggs hatch in 10-20 days into tadpoles. By early August, they transform into adults.
Risk factors: Scientists can't explain the worldwide disappearance of many amphibian and reptile species. It may involve a combination of unusual local conditions (drought, frost, disease, acid rain, loss of habitat), global warming, changes in ultraviolet radiation levels and general contamination of air, soil and water.

Management and Outlook: Current populations are large enough to build on but protection of them and their habitat is critical.
Farmers must ensure pesticide application and cattle grazing near waterholes don't destroy the area for frogs. Wetland drainage should also be avoided. Biologists agree captive breeding programs may be needed to repopulate areas from which the species has entirely disappeared, such as the North Saskatchewan River basin.
It is illegal to collect northern leopard frogs for sale to biological supply houses.
Photo: C. Wershler

---
Want to help? Join or Make a Donation to an Organization that makes a difference.
If you live in the united states, these green links will take you to organizations that make a difference there.