We traveled the Oregon coast in November, 2014. It was a bit rainy, but also fairly empty of tourists, that is, of people like us. About half the Oregon campgrounds were closed, but a sufficient number were open for our needs. The Oregon campgrounds are the best we've visited – good showers, clean, near the beaches, yurts for rent in case you don't want to spend a rainy night in a small tent.
I've treated some of my images with a texture. Texturizing an image is often a signal that the photographer hasn't managed a good, sharp, quality image, and thus, he or she, tries to painterize it. I do it because I like the look. I used photoshop's texturizer set on "sand" for them.
A Lazy Dogz Production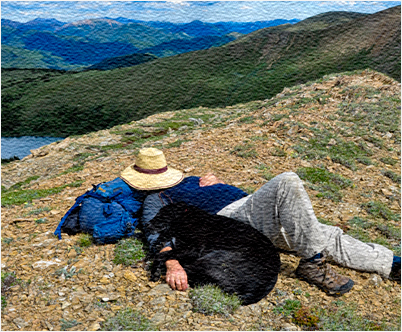 | My Photography Websites | My Haiku, Haiga, Haibun Websites | My Homepage | Image Sales | Email |
copyright: all images are copyright by R. Rasmussen. None may be used without written/email permission from the photographer.