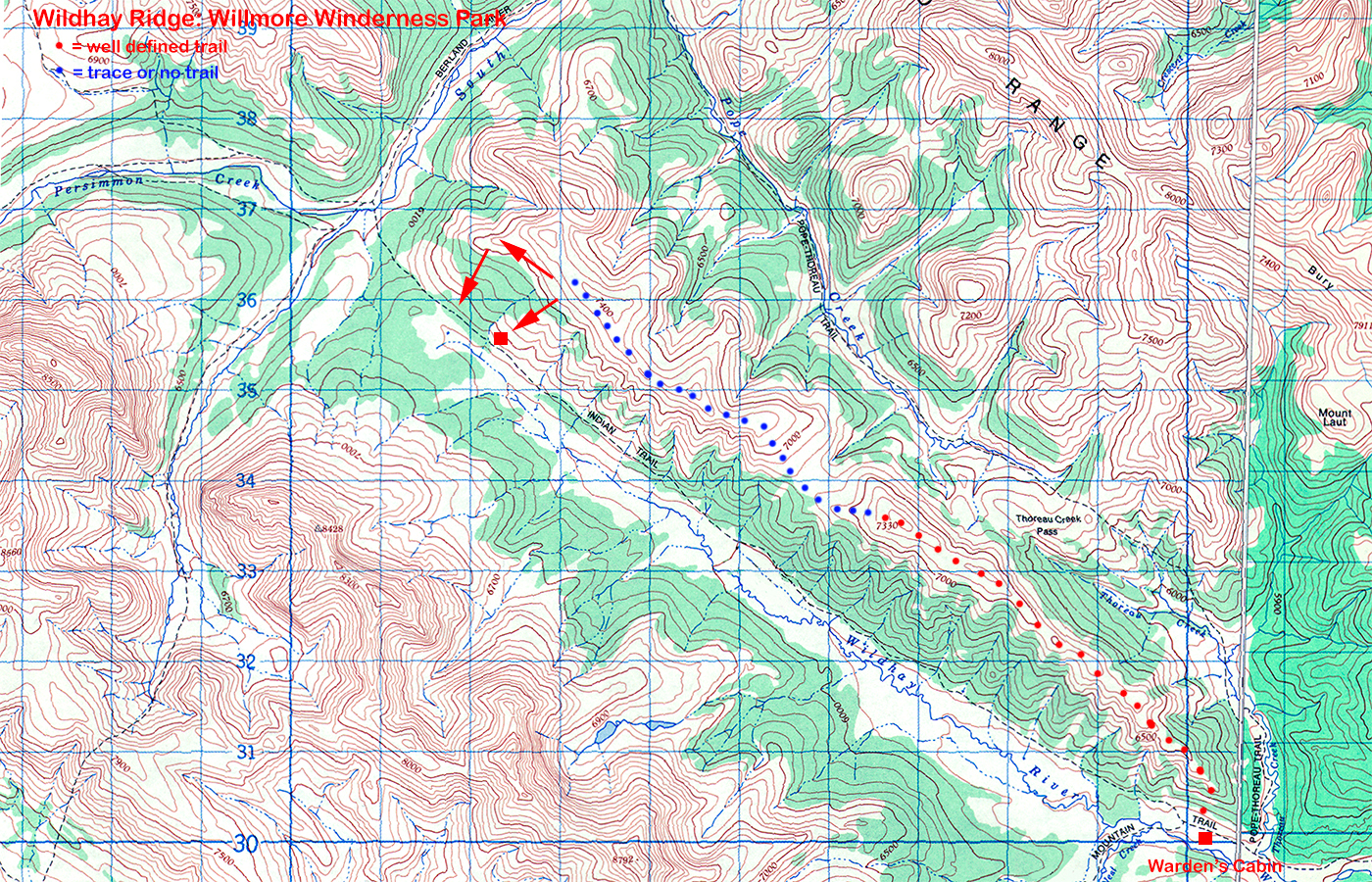 Wildhay Ridge: Willmore Wilderness Park
This is one of the most beautiful ridge hikes in Willmore, and in the Canadian Rocky Mountains for that matter. It's about 14 km from one end to the other, with the usual small elevation gains and drops. A trail up starts with a 1000 ft. ascent starting directly across the road from the Warden's Cabin. The red dots are the part with a strong single track trail that is suitable for horses as well as hikers. The second half of the trail shown by the blue dots is tracey or non-existent. The low point where there's a transition from red to blue is brushy, but the remainder of the trail is alpine ... a walk in the sky with the Persimmon Range to the left and the Bury Ridge and unnamed peaks to the right. At almost any point on the ridge, it's possible to make a descent on one of the arms. However, stay out of the intermittent creeks between the arms. The red arrows show two trailless routes down to the Wildhay Summit Camp (very brushy in parts - stay on top of the arm - small ridge - going down and near by out of the creek bed). There's no water on top.
The alternate route from the Eagle's Nest Region to the Wildhay Summit Camp is shown as the Indian Trail on this topo map. It's a fairly flat, but scenic walk or ride that looks over to the beautiful Persimmon Peaks and Ridge on the left.
Willmore Wilderness Park, Willmore, Willmore Park, Alberta, Canada, Alberta parks, Alberta Wilderness, Hiking, hiking in Alberta, Hiking in the Rockies, Hiking in the Rocky Mountains, Rocky Mountains, Rockies, Canadian Rocky Mountains, Canadian Rockies, Alberta Parks, Wilderness, Wilderness Parks, Canadian Parks, photography, mountain photography, landscape photography, mountain animals, mountain wildflowers, wildflowers, flora and fauna.