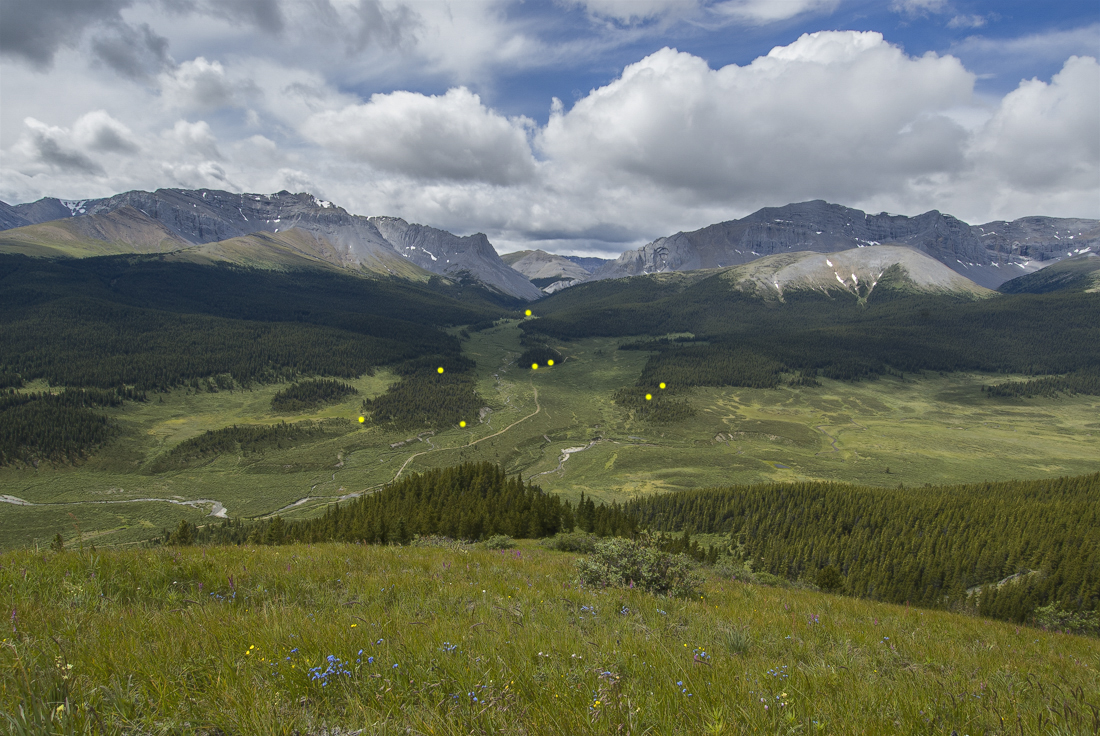 You're looking at what I call the Eagle's Nest Region of Willmore. This viewpoint is about 1000 feet above the valley floor. Eagle's Nest Pass pass is direct center – just past the topmost yellow dot. It goes through a gap in the Persimmon Range.
There are numerous camps in the region and throughout Willmore. Most are heavily used duriing hunting season and some of them are fairly beat up by the users and in a few cases by irresponsible visitors who leave their garbage behind. For backpackers and riders, the sites offer access to water, established firepits, crude biffies and usually a grate for the firepit. There is a large amount of deadwood near most camps. Outfitters, who typically carry axes and chainsaws, can legally take down dead standing trees. Often they leave some wood for the next user of the site. The sites can not be reserved and are taken on a 'first come – first served' basis. If all sites are taken, hikers are generally well received by outfitters and can join a camp. In addition, there are places where a fresh campsite can be established. Of course, it's a good idea to establish a firepit when building a fire and to break it up when leaving.
Willmore Wilderness Park, Willmore, Willmore Park, Alberta, Canada, Alberta parks, Alberta Wilderness, Hiking, hiking in Alberta, Hiking in the Rockies, Hiking in the Rocky Mountains, Rocky Mountains, Rockies, Canadian Rocky Mountains, Canadian Rockies, Alberta Parks, Wilderness, Wilderness Parks, Canadian Parks, photography, mountain photography, landscape photography, mountain animals, mountain wildflowers, wildflowers, flora and fauna.