Ray Rasmussen's Guided Hiking Trips
Willmore Wilderness Park, Rocky Mountains, Alberta, Canada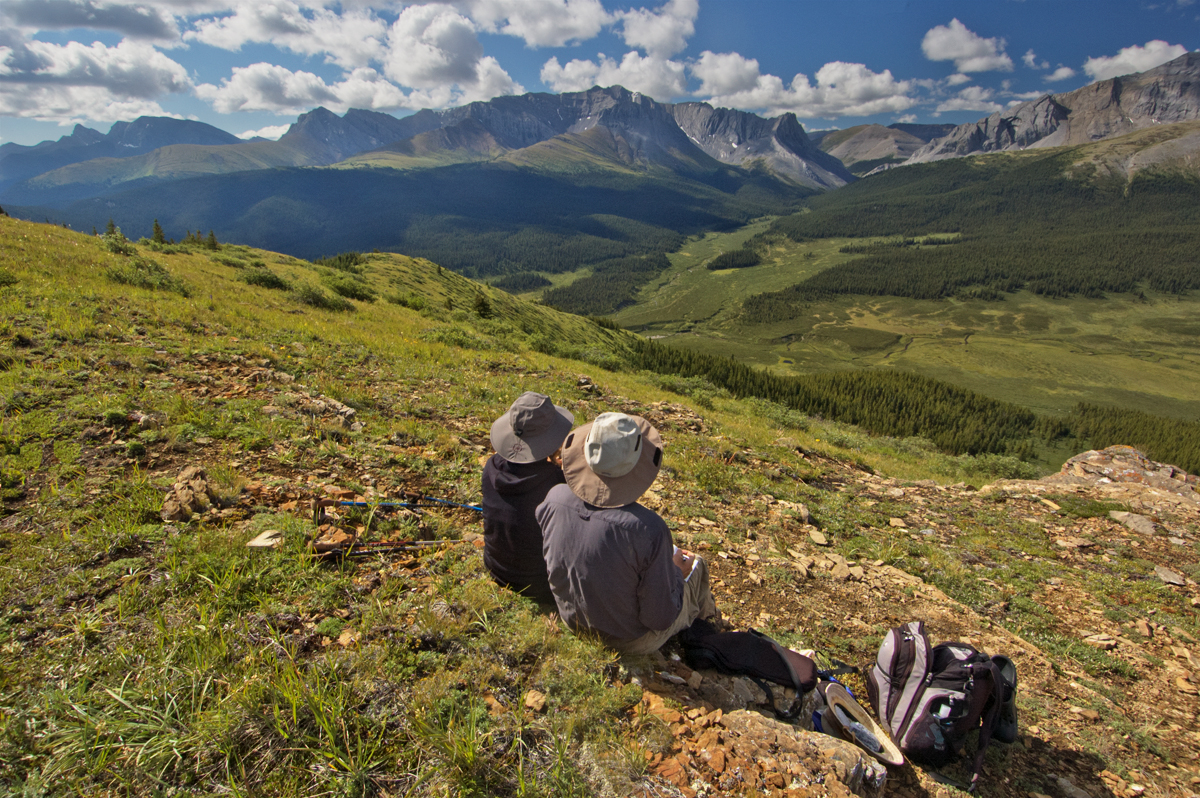 Summer 2018 Hiking Trips: Imagine – not seeing another hiker or camp for 5 days of alpine hiking.
(Click here for a Willmore Wilderness Park Slideshow)
Willmore Wildeness Park, nominated as a World Heritage site and known for its wilderness character, vastness and scenic vistas, is my favorite place in the Canadian Rockies to hike and take photographs. On these trips, our outfitters pack horses and transport all our gear but our day packs along the valley bottoms, while we hike in places like the one the couple in the photo above are enjoying. The camps are set up to provide scenic vistas while also providing shelter in case of inclement weather. Hikers use their own tents and sleeping gear which are carried along with personal gear and food by the horses. This allows the hikers to enjoy themselves without heavy loads on their backs. The lack of snow on the ridge tops in July and August allows us to hike in rarely visited, highly scenic alpine regions. It is unusual to see any other hikers while on these trips.
These trips are for the average person – they are not hiking marathons. The aim is to enjoy the wildflowers, scenery and company. We use the services of several of Willmore's most experienced and reliable outfitters.
Please note: Ray Rasmussen is not a professional guide. He organizes trips of like-minded hikers and pays his own way. He is not paid a fee. We share camp work, including cooking. Our outfitter does charge fees.
Trip Dates:
July 23-29: a 7-day trip: I lead a short trip into a lovely base camp in the Eagle's Nest area.The hikers in the image above are looking down on the Wildhay River Valley and Eagle's Nest area and are on a day hike from our camp. We hike in to our camp on day 1, do 5 day hikes, and then hike back out. All camp work, cooking, gathering firewood, etc. is shared. We meet for Dinner in Hinton the night prior, July 22, or at a designated meeting place that evening. Elevation gains, like the one shown is this image, are modest (about 300 meters) and the climbs are safe.
August 01/02-14/15 (not decided yet): 14-day trip: This year we will do a circuit through some of Willmore's most remote and scenic landscapes. Every other day we hike to a new camp. We stay at that camp for the next day and I organize a day hike for those who want it; some choose to do photography or enjoy camp or take short walkabouts.
This summer's trips are getting set up now. If you're interested in seeing the area, take a look at the slide show and if you want more information, drop me an email.
~ Ray Rasmussen