~ End ~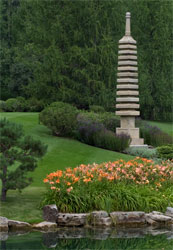 My thanks to the Kurimoto Family and to the Friends of the Devonian Botanic Garden for the delightful days that I have spent in Kuramoto Garden.
One half of the yearly operating expenses of the garden are generated through an endowment fund. Donations to this endowment fund can be made by contacting the Director through the Official Devonian Botanic Garden Website.
The Devonian Garden has just launched an fund raising campaign and needs the support of people like ourselves. If it inspires you to do so, I will donate a large print of any of the images on this web site to those who make a donation to the foundation. To learn how to obtain a print, go to the copyright & sale of images link.
Visit the Official Kurimoto Japanese Garden website
| Return to Entry Page | About This Site | Copyright & Sale of Images | Japanese Garden Information |
| Ray's Web | Ray's Other Photography Websites | Ray's Haiku Websites | Email |